Why let the kids have all the fun? Adults can enjoy Halloween, too! Even though we may be too old for trick-or-treating, we can eat our favorite treats without the door-to-door soliciting. Bring Halloween spirit to your workplace with Tassi Vending services. Our vending machines for businesses are equipped for any space and quantity of consumers. We always go the extra mile to deliver quality customer service and a fully stocked food and beverage selection. Bring the convenience store within reach of your employees this treat-filled season.
Providing snacks for employees is an effective way to show your appreciation for their hard work and to increase productivity. Having food in the office will eliminate trips to the store and keep workers fueled at their desks. A vending machine acts as a social meeting point for co-workers, creating a friendly and collaborative work environment. Think of it as an office icebreaker— a place for people to bond over their favorite snack, to relate on a personal level within a professional environment.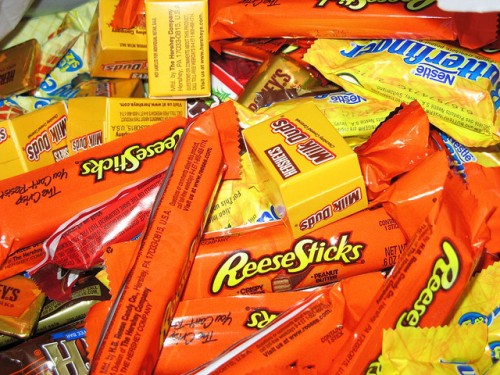 Bring the best part of Halloween to the office this season with a vending machine stocked with everyone's favorite treats. Snickers, Twix, Skittles, Reese's, Kit Kats… you name it and Tassi Vending will provide it! No need for candy jars of bite-size nibbles—provide your employees with full size bars and a variety they can appreciate. We can even add some extra treats especially for Halloween to bring the trick-or-treating to your workspace.
A vending machine is sure to be a hit among employees, so much so that you'll want to keep it in the office past the holiday season. Tassi Vending offers a wide variety of snack options if you'd like to switch to healthier alternatives after the Halloween candy is gone. But for now, give 'em a break with some yummy treats!
Contact us at Tassi Vending to schedule your full service vending consultation.