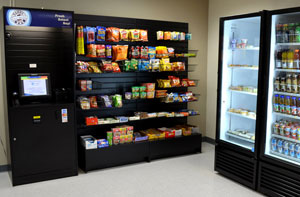 For years, office snacking relied upon classic vending machines – stocked with sodas, candy bars, and salty snacks like chips and pretzels. The options were limited, and as a result, employees suffered. This is no longer the case.
In recent years, the vending industry has undergone some big changes. People are becoming far more health conscious, and selective about what they eat. To meet these new needs for fresh, healthier foods, the appearance of micro markets has transformed vending and office snacking.
Click here to learn about how micro markets work!
Micro markets offer a distinct benefit to employees, and a relatively inexpensive way for employers to support their workforce. According to a New York Times article on modern-day employee benefits, "offering fresh fruit and healthier food for employees seems a sensible benefit … One growing trend, micro-markets in workplaces, is responding to that need. Set up similar to those kiosks or markets available at airports — except self-service — they are modular units that provide snacks, salads, sandwiches and drinks".
These mini corner markets, set in the office cafeteria or dining area, offer much more than the good old vending machines. As an added benefit for the business, they are easy to have maintained, and carry very minimal risk – the business is not responsible for the loss from stolen items.
Each micro market is stocked based on the needs of each location and their employees/consumers. Micro markets will provide your employees with fresh fruit, lunch items like salads and sandwiches, snacks such as yogurt and cheeses, and all of their favorite nonperishable snacks and treats, too. Employees appreciate the variety as well as the offering of healthier and fresher items.
These markets completely transform the world of vending with healthier, more nutritious, and more variety of snacks and foods for employees to enjoy while on the job. In addition to changing vending itself, micro markets help employers to offer such benefits to their workforce, without spending extreme amounts of cash.
To learn more about micro markets, and get a quote for a micro market installation at your business, simply contact us!