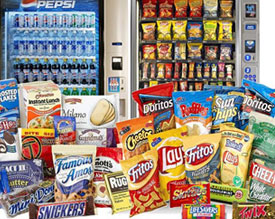 A Micro Market is a great way to provide fast and easy snacks and drinks for your office or building, but with all that delicious food laid out for the taking, maybe you're wondering how far the honor system really goes.
A Micro Market is an open area where you can pick up and inspect your items of food or drink, and put it back whatever you don't choose to purchase it. If you do choose to purchase, you pay for it by scanning either a credit card or one of your Tassi Micro Cards. The Micro Market offers all the freedom and selection of the grocery store without the need to hire staff!
Of course, this raises the Micro Market million-dollar question: what stops people from just taking the merchandise? If you're considering installing a Micro Market in your business or building, it's important that you realize that you will never be held accountable for any lost or stolen items. Also, we install video cameras at all Micro Market locations, which we will monitor closely to trace any sources of theft. You don't need to worry about a thing—we at Tassi will absorb any losses, and track down anyone who is abusing the system ourselves. This also means that you'll never be charged for losses related to damaged or expired goods!
It's also important to note that because our Micro Markets are completely cash-free, the risk for serious theft is minimal. No one is able to break into our cash drawer, for example, and steal the proceeds of the entire day. Because everything is done through credit cards, there is little incentive for thieves, and no problem with till disparities. Not to mention that there won't be anymore jammed coins!
If you're considering a Micro Market, remember that there is no risk at all to you! Call us at Tassi Vending today to learn more about how Micro Markets work and how they can benefit the environment of your business or building.