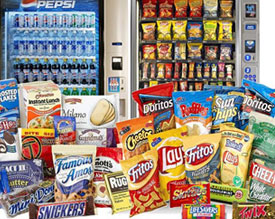 When searching for solutions to bring your employees convenience and variety for snacking, business owners and managers can face a complicated industry that is difficult to navigate. Tassi Vending is designed to help simplify this process, so that business owners can get back to running their companies and leave the vending service installation and maintenance to us.
Here are just a few of the perks of Tassi Vending service:
Product Variety
From coffee service to installation and maintenance of a Micro Market for your office, Tassi Vending can provide extensive product variety in customizable forms. We can provide both small and large offices with full-service coffee and tea packages, or provide fresh water cooler services. In vending service, we can offer traditional machines and even extensive fresh food programs with a Micro Market.
Convenience
We do all of the work to install your vending service – large or small! Simply contact us to discuss your employees' unique needs and tastes for vending solutions, and we will put together and install your customized vending program without any hassle to you. Our machines are easy to use and fully maintained by Tassi Vending, so you don't have to worry about technical difficulty or even losses from theft.
Customer Service
Even though we've been in business for more than 15 years, and have over 100 customers, we are still 100 percent dedicated to exceptional customer service. We continually go the extra mile to provide vending service with the best customer service experience. You can expect to see your selection of food and beverages well-stocked and a great exchange each time you interact with a Tassi Vending service professional.
Experience
Tassi Vending has been in the business of providing vending and coffee services to companies in the Greater Seattle area for nearly 20 years. We currently service more than 100 vending installations throughout the Puget Sound. With such widespread and long term service, you can trust Tassi Vending with your vending service solutions.
Contact us today to learn more about the perks of working with Tassi Vending for your office vending service needs.