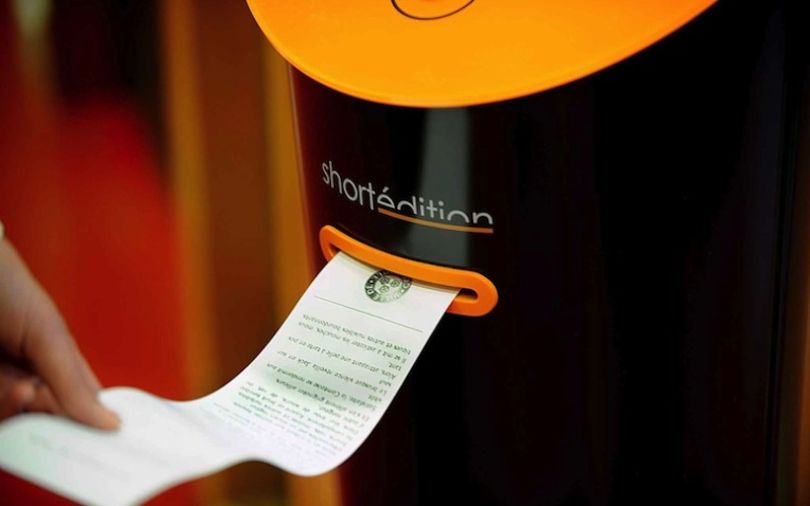 We've all had this experience in the post-iPhone world: you're sitting at a train, cafeteria, or bus stop waiting to meet someone and they're running a few minutes late. No problem – except you spend the next 15 minutes staring into your phone. It's a nice distraction, but as most people can attest, it's quickly becoming a crutch and a bad habit.
A small town in France has had enough. A publishing company called Short Edition has partnered with the city of Grenoble, France, to place eight vending machines in public areas that print short stories for people to read.
Each machine has a few options: 1 minute, 3 minutes, and 5 minutes – the selection of which depends on how much time you have to wait around for your next meeting or train to arrive.
While it's certainly a novelty, Short Edition co-founder Christophe Sibieude said that the goal was to create a machine that could provide "good quality literature to occupy these little unproductive moments." And the best part? The screen-less machines are absolutely free.
We've already covered the weird and wacky vending machine creations that populate far corners of the globe, but somehow, this beats even the burrito-dispenser as one of our favorite and most inventive vending machines in recent memory.
There's no telling when or if Short Edition will ever expand into the United States, but we can think of a lot of reasons why companies, public organizations, and community groups would want to place one of these devices in their waiting areas or break rooms.
For more information on vending solutions for the Seattle area or to learn more about how vending technology has advanced in the last 20 years, contact Tassi Vending today.
Image source, labelled for reuse